Previous concerts
17th-24th August: 2nd International Summer Music Masterclass 2014
Kolben, Kolbotn, Norway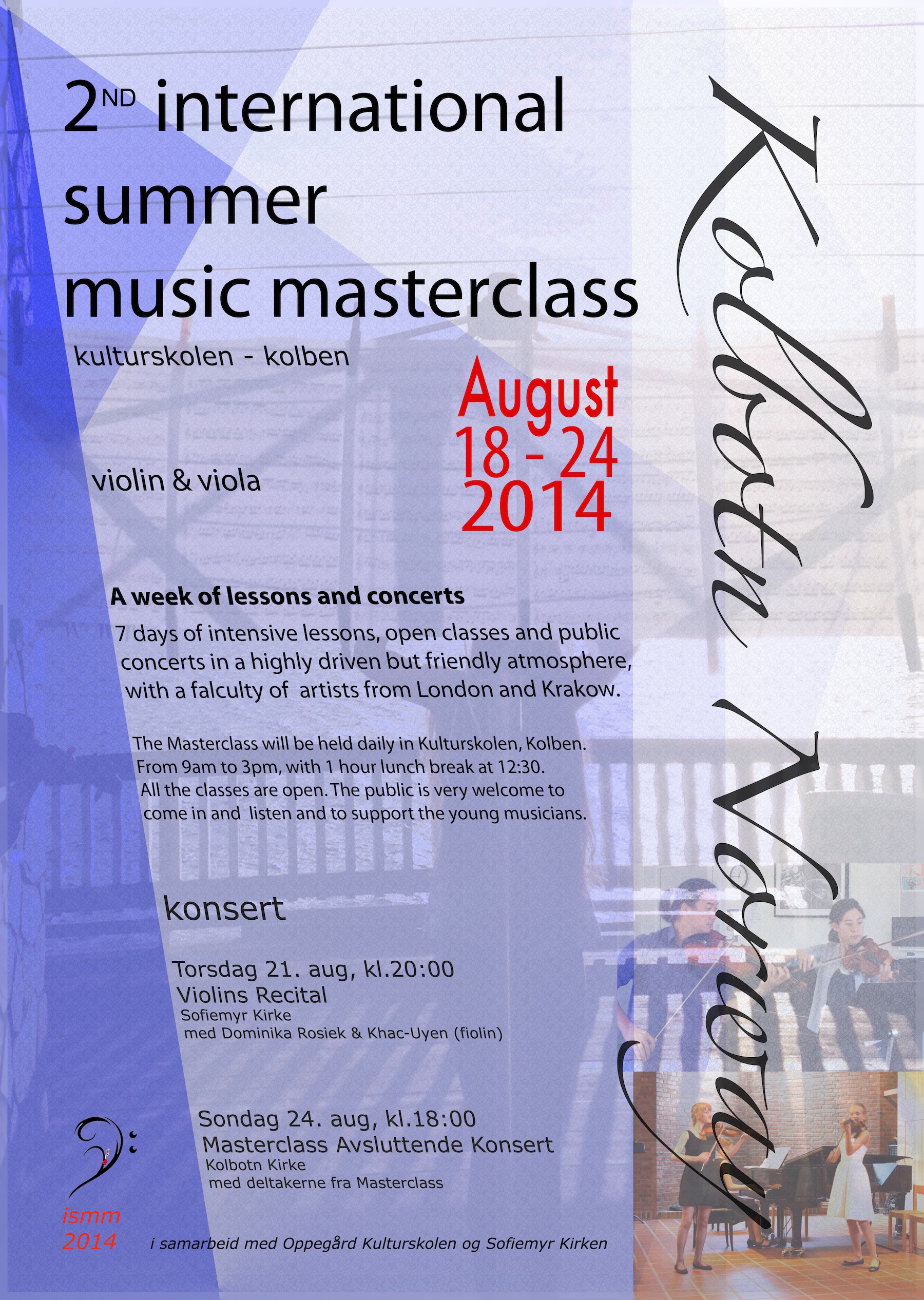 Students:
Karl Lee, Lucien Engelmann, Anna Chowaniec, Klaudia Sasula, Anna Toporkiewicz, Martha Neugarten, Sacha Neugarten.
Tutors:
Dominika Rosiek, Khac-Uyen, Robert Rosiek
5th Sept: Cadogan Hall concert
Mendelssohn,Elgar and Britten

Verdandi Camerata joins force with the young Vietnamese pianist Tra Nguyen for Mendelssohn 1st Piano Concerto in G minor. We form part of the event to celebrate 40TH ANNIVERSARY OF VIETNAM - UK DIPLOMATIC RELATIONS, presents by the Vietnamese Embassy. We will also perform the *Tarantella* by Britten for his centenary, plus 2 beautiful short pieces by Elgar.
The concert is being shared with the Vietnamese traditional orchestra who will start the evening. This event is by invitation only.

Tra Nguyen, piano
Khac-Uyen, conductor

15th August: Violin Recital, Sofiemyr Kirke, Norway
Beethoven, Bartok, Sarasate, Kreisler, Pleyel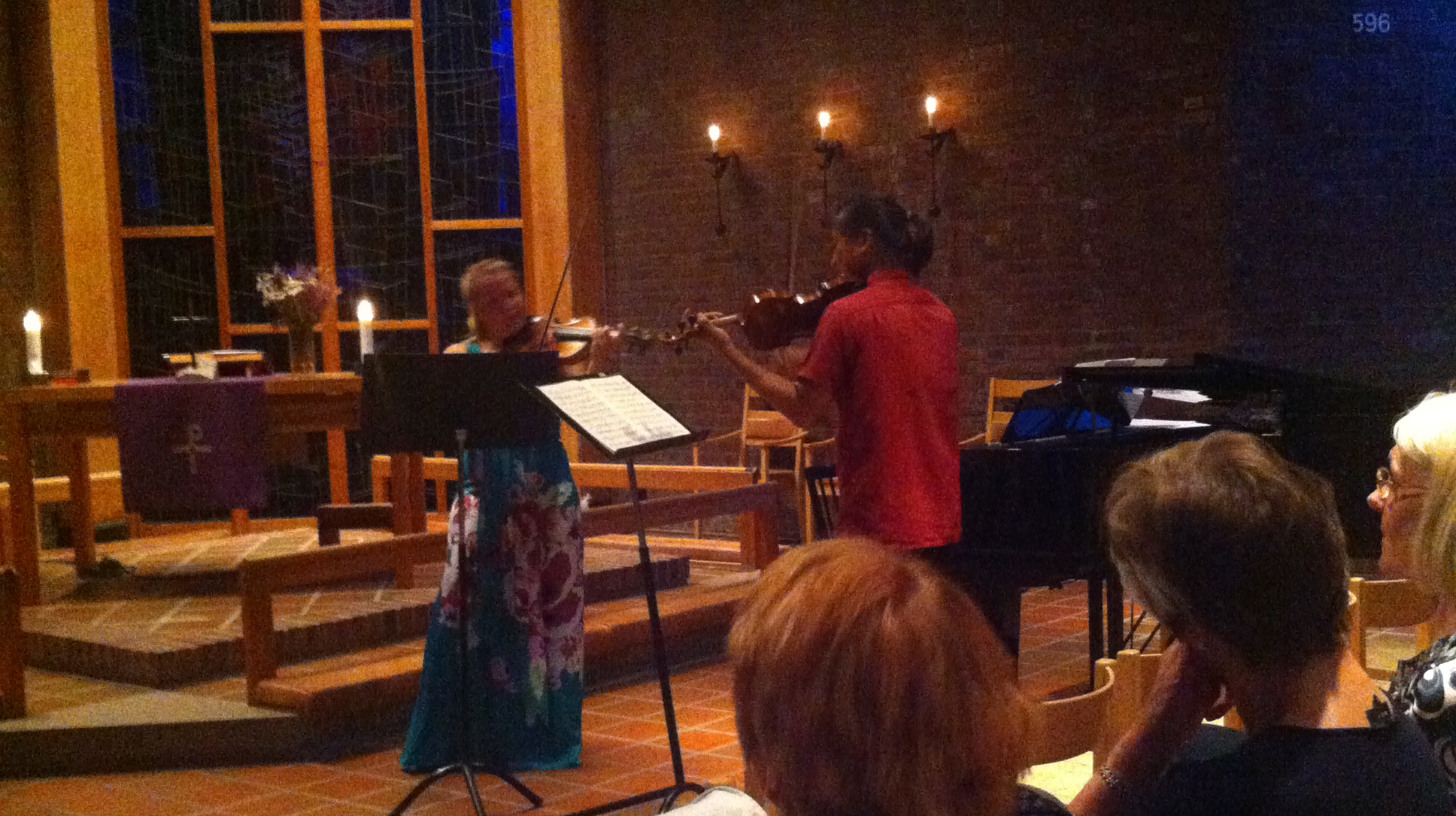 This concert is part of the first International Summer Music Masterclass in Kolbotn, Norway. Verdandi Camerata collaborates with the Oppegard district and its local organisations. The lessons were held in the cultural senter Kolben in Kolbotn over looking the scenic lake. All the concerts were sponsored by the Sofiemyr Church.
The first concert on the 15th August is a full recital share by the tutors of the course. The 2nd one on the last day of the course is the Final Concert which showcases all the masterclass students. Both concerts were received with great enthusiasm and it generates a keen interest from the local public to repeat this successful project every summer.
12th-18th August: International Summer Music Masterclass 2013
Kolben, Kolbotn, Norway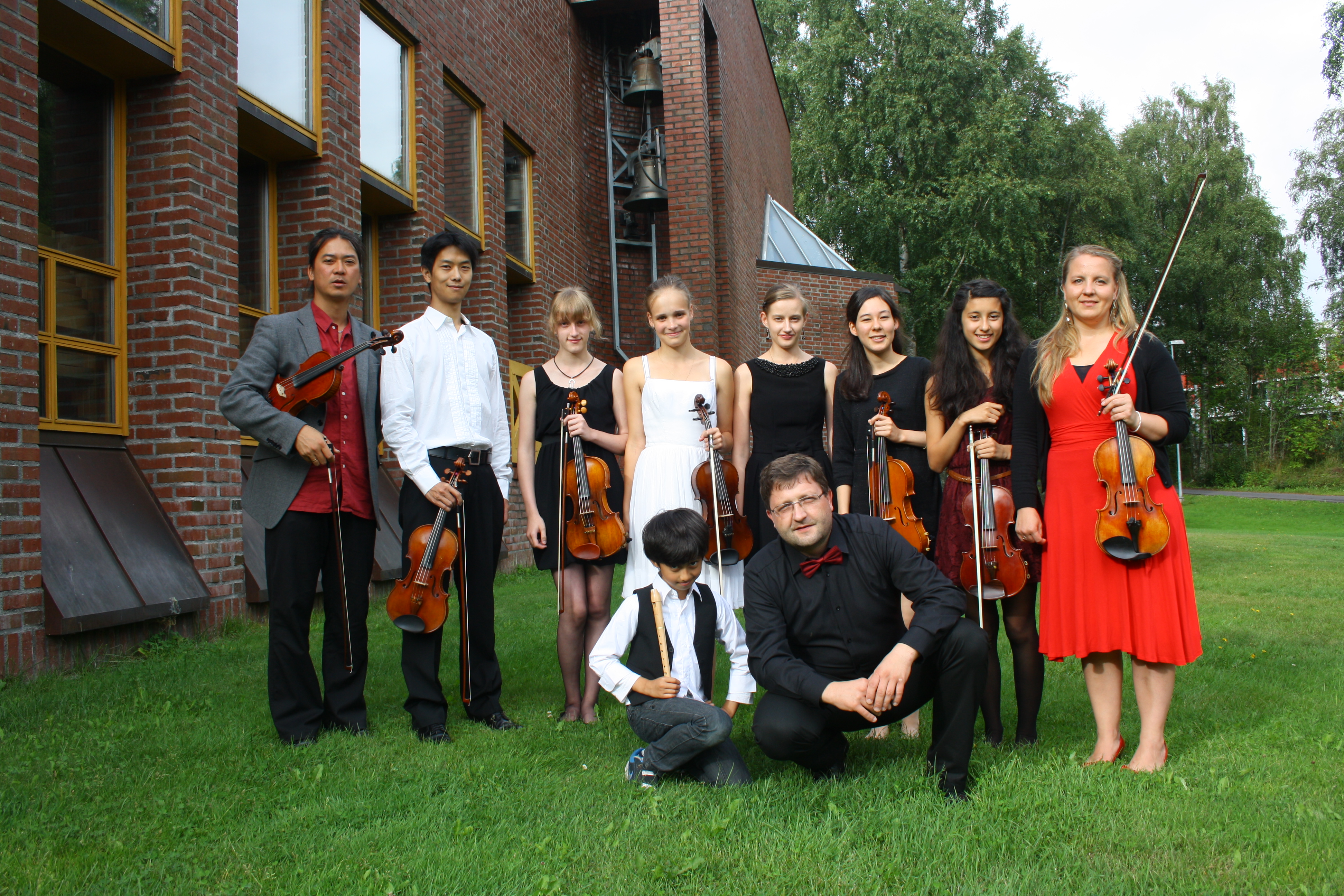 Students:
Hoonio Kim, Julia Hart, Anna Chowaniec, Alexandra Chowaniec, Anna Toporkiewicz, Martha Neugarten, Sacha Neugarten.
Tutors:
Dominika Rosiek, Khac-Uyen, Robert Rosiek
15th April: Cadogan Hall concert
Kats-Chernin, Pärt, Sibelius, Brahms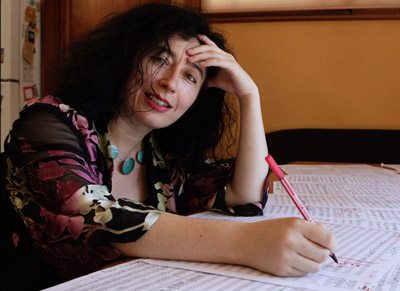 From the dark water lakes of Finland to the desolate fields of Estonia, and from the impenetrable woodlands of Germany to the imaginary crystalline architecture of Selenite City, London-based orchestra Verdandi Camerata takes you on an exciting musical journey inside some of Nature's most secluded landscapes. Our Cadogan Hall debut will feature acclaimed talents Anne Lovett (piano) and Giovanni Guzzo (violin) in the world premiere of Elena Kats-Chernin's new concerto for violin and piano, Selenite City, a piece specially commissioned for this event. Ms Kats-Chernin has gained international public acclaim with her ballet Wild Swans, of which Eliza's Aria was made popular by Lloyds TSB's television commercials.

All proceeds will go to 'Help For Heroes', a charity formed to help those who have been wounded in Britain's current conflicts. The concert will be conducted by Jean-Louis Gosselin.
1st April: Concert for Japan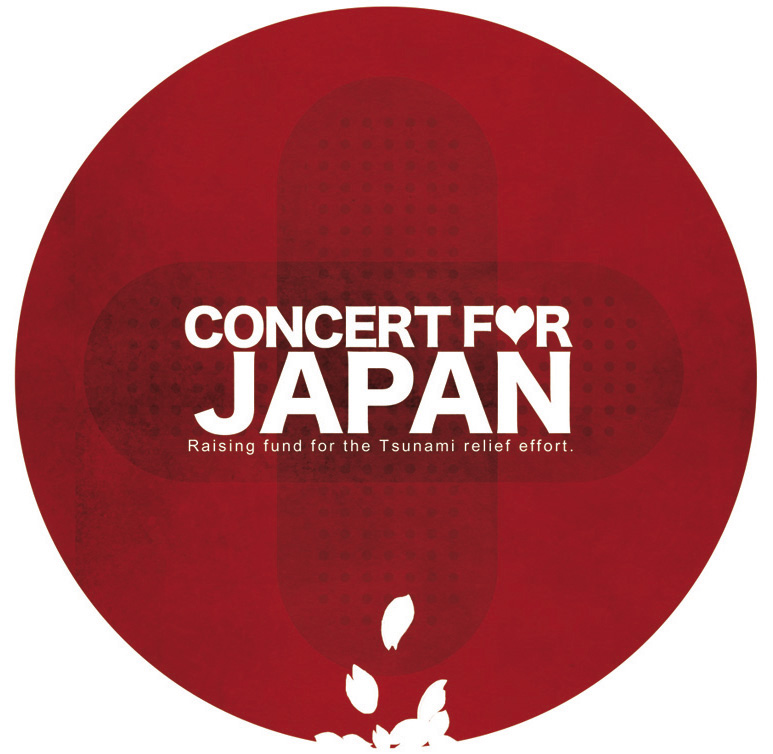 As the tragic events in Japan still unfolding, we would like to donate this concert to the Japanese people in the tsunami affected areas. All profit will go to Red Cross Japan.
Verdandi Camerata's community orchestra: the Southwark Sinfonia Orchestra will be performing an exciting program with some of Grieg's most gorgeous music in the beautiful Norwegian Church in London. The program also includes, among others: Elgar Serenade and Vivaldi's two brilliant concertos.
Donations
If you wish to make separate donation, we collect all donations to Verdandi Camerata's account. The sum will be sent to the Japanese Red Cross Society after the concert. Please put in the reference of your transaction as "Japan Donation".
Cheque can also be made payable to Verdandi Camerata.
Verdandi Camerata Account
Bank name: HSBC
Sort Code: 40 06 21
Account Number: 42232448
To send donation directly to the Japanese Red Cross Society, please follow this link:
http://www.jrc.or.jp/english/relief/l4/Vcms4_00002070.html
Art and Music for Zanzibar, 25th March 2011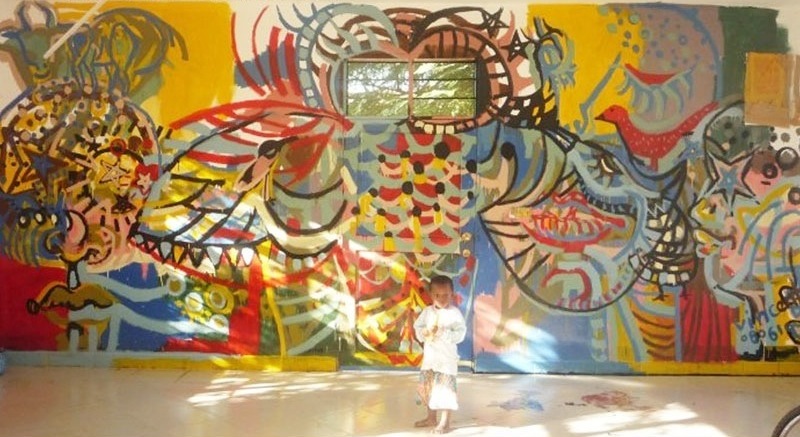 ARTMUSIC FOR ZANZIBAR was an unique evening of experimental performance featuring a duet of live painting by artist Vincent S. Ko accompanied by classical music performed by the Verdandi Camerata orchestra, with special guest alto YoungJae Park,
The event raised vital funds for the Black Soul, a charity that supports education projects in Tanzania, including the provision of art materials that allow young people to express their God-given gifts. The ticket price includes entry, finger food, drinks and a charity donation.
Venue: St.Alban Fulham
(Margravine Rd, Fulham, London W6 8HJ)
About 'The Black Soul':
www.theblacksoul.org
About 'Vincent S Ko':
www.vincentsko.com
20th Century chamber operas: Stravinsky, Marsalis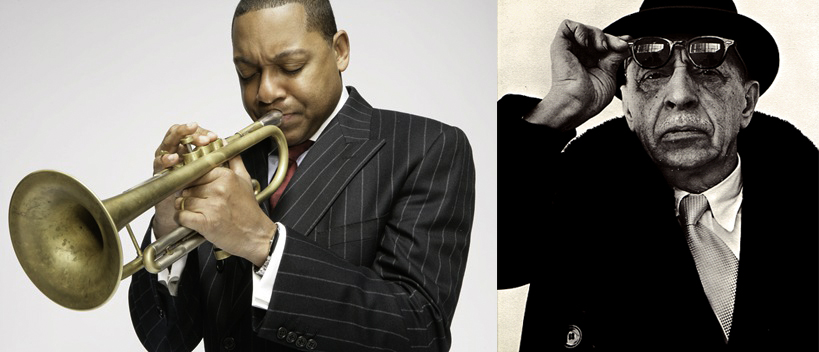 Leading actor Stephen Hogan (BBC's TV series "The Tudors", "Robespierre: Blood & Terror") and opera singer John Savournin take to the stage in an exciting double-bill of theatre and music: Igor Stravinsky's war-time masterpieceSoldier's Tale coupled with the UK premiere of A Fiddler's Tale by famous jazzman Wynton Marsalis.
Performances conducted by
Jean-Louis Gosselin
and directed by Hugh Lee.
Concert for Haiti: 16th June 2010
In aid of Haitian children
who were affected by the worst earthquake to hit Haiti in 200 years. On 16th June 2010 we gave a concert fund raising for various UK charity organisations.
The program included: Ravel Tombeau de Couperin, Mozart Sinfonia Concertante, Beethoven Symphony no.4. With our soloist: Natalia Lomeiko (violin) and Yura Zhislin (viola), conducted by Khac-Uyen